KUNG FU AND TAI CHI
 THE ILLAWARRA KUNG FU ACADEMY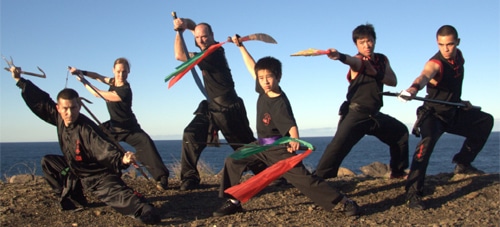 HAVE FUN, GET FIT AND DE-STRESS!

LEARN VALUABLE SKILLS!
Learn world-renowned traditional Choy Lee Fut Kung Fu and Qi Gong from an International Master (6th generation Inner Chamber Disciple) right here in Kiama.
The Illawarra Kung Fu Academy teaches Shaolin Choy Lee Fut Kung Fu and Lohan Qi Gong & Tai Chi. To learn more about these arts, click on the Kung Fu and Tai Chi links at the top. You can find class times and locations by clicking on the Classes link and learn about the teachers and their qualifications by clicking the Instructors link.
We also have pages describing the history of these traditional systems of martial arts and wellbeing, and much more. Feel free to contact the Academy with any questions you have, either by email or telephone. Details on the Contact page. We also perform traditional Southern Lion Dance for all special occasions.
Take some time to browse this site to find out how the Illawarra Kung Fu Academy can help you with:
* Self defence and awareness
* Strength, conditioning and flexibility
* Reflex and co-ordination training
* Shaolin stancework
* Shaolin animal training
* Traditional fist forms
* Traditional weapon forms
* Shaolin wooden dummy forms
* San Da sparring techniques and takedowns
* Kum Na grappling and joint lock techniques
* Breathing and movement exercises to cultivate energy
* Muscle and tendon conditioning to build a strong body
* Traditional Qi Gong and Tai Chi forms, or set patterns
* Correct breath control
* Mental discipline and awareness
* A traditional Lion Dance for your special occasion
And much more.
.